Hyundai Provides a Glimpse of an Exciting Future
The new Hyundai models currently available stateside take the traditional aspects of the customer-focused brand - smart technology, cool styling and strong warranty coverage - and blend them with glimmers of what the future of driving will one day soon be like. But there's plenty of models not even here yet that also show the future of Hyundai. Take a look through some of these Hyundai concept cars that are being developed overseas, and get excited for what one day might make its way over to the U.S.A.
2020 Hyundai Ioniq
The latest edition of a currently available hybrid, plug-in or electric car, has just been revealed with a number of significant improvements. This year's version comes equipped with a larger and more efficient battery pack, expected to expand the driving range to 170 miles, while driving up its performance aspects. This battery will also charge faster with a 100-kW fast-charting station, getting you back up to 80 percent in under an hour.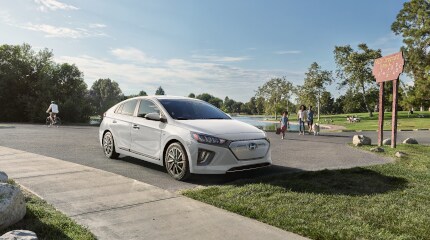 Hyundai Vision T SUV
With sharp angles and an overall futuristic style, the Hyundai Vision T concept SUV will certainly excite drivers waiting on an SUV to bring them into the next decade and beyond. As a plug-in hybrid SUV, this will blend striking design with premium efficiency levels, along with whatever kinds of technology Hyundai is rolling out at the time of the Vision T's release date.
Hyundai RM-19
Hyundai is not the kind of brand that immediately calls to high-end performers, but with the RM-19 mid-engine sports car prototype, the automaker proves it knows how to handle premium levels of power, handling and dynamics. Looking to use a 390-horsepower turbo engine with a lightweight body, this sports car concept will deliver a nice alternative to what you can typically expect to find in the new Hyundai model lineup.